CITY CEMETERY
Conneaut, Ohio
Located on Liberty Street.
Some of the following stones are selected because of their age and state of deterioration and some are selected because of their unique designs. If you want a stone photographed, please contact me at: conneaut44030@hotmail.com
As I am doing this whole website alone, please limit your requests to 'sure things'. I can always go back and photograph the 'maybes' at another time as they become 'sure things'.
Thanks,
~Sharon Wick~
Updated Oct. 17, 2005

HARMON PLOT

CLICK HERE to see Note at bottom of this page.

HARMON PLOT
From Left to Right:
Sylvinia T., Nathaniel B. & Sarah P. Harmon
This photo shows the back of Sylvinia's Stone.




NELSON AUGUSTUS COOL
&
ANGELINE DIBBLE



WHITE PLOT

JOHN C. WHITE
Killed by Nickle Plate Train
Died Sept. 25, 1888
21 yrs & 4 mo's
A precious one from us has gone
A voice we loved is stilled;
A place is vacant in our home,
which never can be filled.


BLOOD FAMILY PLOT

ALICE C. & CARL R. BLOOD
HIRAM A. & ISABELLA
LUELLA BLOOD
LITTLE LEE
&
LITTLE BERTIE
THE BLOOD STONES BELOW ARE NOT IN THE BLOOD LOT



CUMMINGS

FOBES/JENNINGS FAMILY PLOT


GILBERT FAMILY PLOT

MIINA KOLEHMAINEN
&
JA HANEN LAPSENSA
EDLA.
This stone stands alone near the road across from the Viet's Mausoleum.
The first picture shows the stone below it all alone.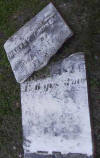 NATHAN SHARP
buried in Area G near the RICHARDS' MAUSOLEUM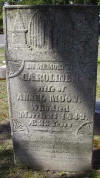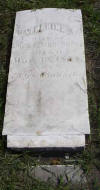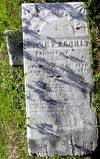 BARZILLIA VIETS
HANNAH BUSHNELL, HIS WIFE
VINETA ANNAH
KATHERINE A. VIETS
BYRON B. VIETS



Another picture






TINKER
LIDA, CAROLINE & CLARENCE






WARD
This monument was very badly destroyed. There were no other names on it.
UPDATE....
On Sunday, September 28th, 2003, I went to City Cemetery to take some more pictures of stones and this is what I found. Someone had taken the top of the WARD monument and got rid of it. It was nowhere to be found.
It is a sad, sad affair that the people that take care of the cemetery couldn't find it in their hearts to repair or at least leave the marker pieces there. I am so happy that I got there to take pictures before it was totally destroyed.
~ Sharon Wick~
This is all that is left. I only wish that I would have taken a clearer picture of the remains before this happened.


NOTE: Moses Harmon's daughter, Irena (Harmon) Chase was buried in Prairiedale Cemetery near Talmage, Kansas in 1882. (per his 4th great grandson)
This Web Page Created by Sharon Wick 2002